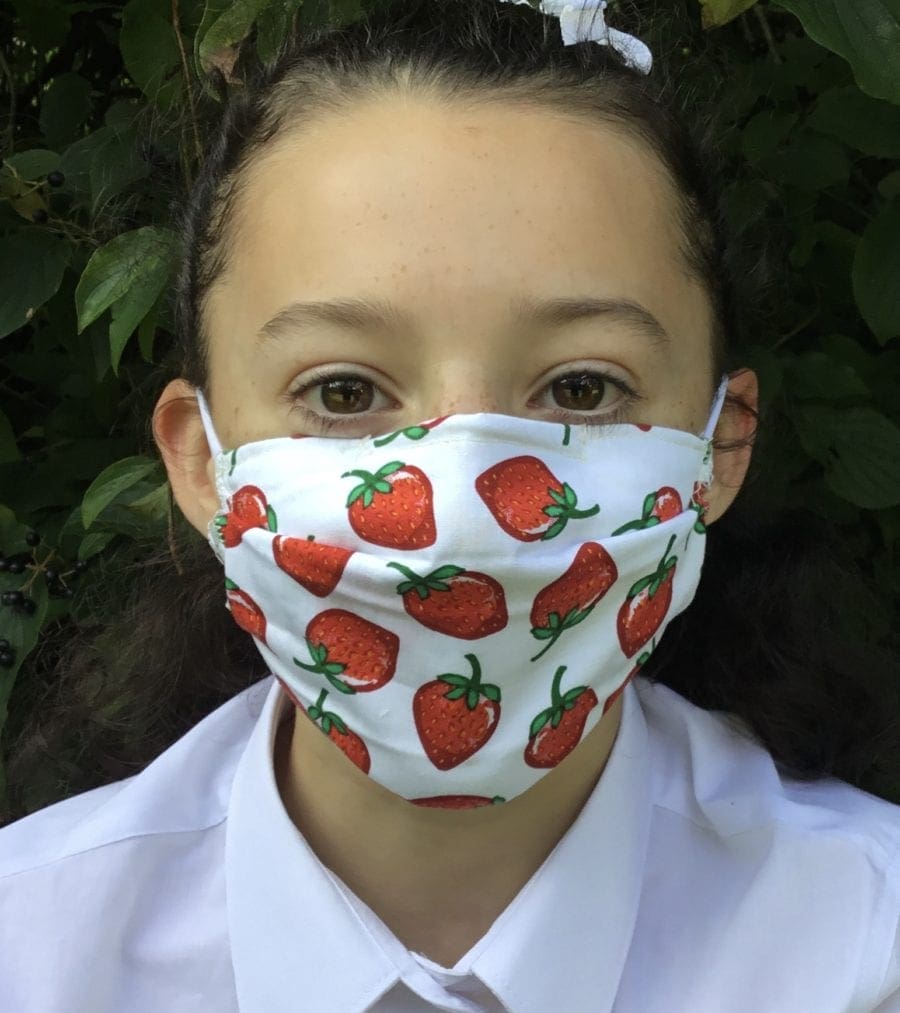 On Tuesday 25th August the government announced that in Coronavirus hotspots, secondary pupils and staff will be required to wear face coverings in corridors and confined areas in school.  When our Director Becca heard this news, she was instantly concerned about the issues it could cause for vulnerable pupils.
Becca comments "We all know only too well the pressure that children face from peers to wear fashionable accessories, or to simply have the 'right look'.  The introduction of facemasks in schools is just another area where pupils could be disadvantaged and isolated if they are unable to purchase a facemask that is seen to be acceptable to their peers.  There will be instances where vulnerable pupils may only be able to afford cheap and ineffective face coverings, setting them apart from their peers and also exposing them to the risk of Coronavirus.  I would like to do what I can to ensure that these pupils can access fashionable and durable face coverings, made in accordance with WHO guidelines."
Principal Teachers has now launched a scheme to donate handmade facemasks and hand sanitiser to vulnerable pupils in primary and secondary schools in North Yorkshire.
Becca said "I spent lockdown researching how to make hand sanitiser in line with WHO guidance.  It took hours experimenting with organic essential oils to find a blend that was mood lifting, kind to your hands and all the time ensuring that I kept the alcohol content above 70% to ensure it kills 99.9% of germs.  I finally found the optimum recipe and when the Hubsters returned to school, I taught them how to make it.  They have since been making supplies for themselves and we have made extra to donate to local schools."
Becca enlisted the help of her sister-in law, Francoise, an accomplished seamstress, for the facemasks.  Francoise used a French pattern and made some prototypes, keeping within the WHO guidelines.  Francoise said "our range of protective face masks have been produced using WHO recommended construction and will help give children more protection when in an enclosed environment.  Each mask is handmade, using 125gsm material, with 3 layers to help filtration of droplets and is pleated to fit snuggly to the face. Our safety design features no centre seam – as these can let in virus droplets. A hidden wire helps the mask fit tightly to the bridge of the nose, giving extra security, along with adjustable straps.
The Hubsters have designed and are sewing facemasks for themselves and are helping the PT sewing team to make extras for vulnerable pupils across North Yorkshire.
To find out more about our donation scheme, or to enter our competition to win a PT Hygiene hamper, please get in touch with the team today.